Togo chair was first designed in the 1970s. With the advancing times, this type of chair has regained prominence just like tiny wooden stools, Vitsoe shelves, Wassily chairs to name some furniture. This article tries to speak particularly of the Togo Chair in Perth. Do you know that the Togo chair was first designed in the year 1973 by a French designer named Michael Ducaroy? It is interesting to note that he became a key designer in the company revolutionizing the company's fringes of technology.
Do you know that Ducaroy initially designed a range of furniture before he came up with the idea to try his hands at what we famously know today as Togo chairs?
Let us take a quick look at what precisely a Togo chair is! A Togo chair is nothing but a product that is entirely made of foam that is quilted with polyester bearing a 'crumpled, newborn appearance with Shar-Pei wrinkles that easily fits into any interior with the quirky design. If you want to find out more about Togo Chair in Perth, please look at the official website of Ligne Roset.
This chair has emerged as one of the best-selling products of Ligne Roset. With the continuous production and selling in about 72 countries, the company has developed newer styles and designs to the already existing ones. There is a massive range of seating arrangements that are designed, including various kinds of sofas, loveseats, accent chairs. These pieces of furniture are attractive and also worth a glance.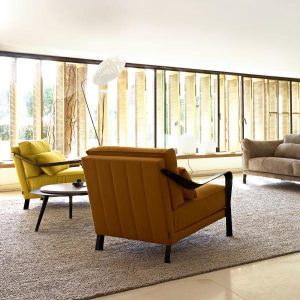 A Togo is quite different from other types of couches. It has a low to the ground design and has a specific curve and a sunken look. Find out more about Togo Chair in Perth from the official website of Ligne Roset. If you are interested, please place your order with us. We will be glad to hear from you. Bring the 70s back to fashion with these chairs adorning your homes.
A Togo chair is a first-ever designed full foam sofa. The designer Michael Ducaroy has described the chair as "a tube of toothpaste folded on over itself like a stovepipe and closed at both ends." It is needless to say that the 70s was a time that had its innocence intact, but at the same time, it was pretty bold. Ligne Roset experimented with various creative sides of their constructed furniture. Check out the official website of Ligne Roset to know all the more about Togo Chair in Perth.
According to Andrew Bowen "For some time, especially the younger set, it almost feels like an adult bean bag." However, it is a perfect choice if you desire to ignore the chaos in the everyday mundane world and lazily spend some time all by yourself.
The appeal of the Togo chair lies in the fact that it can adapt to various stylistic modes. It is possible to make the Togo chair provide a minimalistic look, a maximalist look, and even an unconventional look. Across multiple fashion shows, Togo is used as a lifestyle prop. You will find an exclusive collection of Togo Chair in Perth with Ligne Roset. If you want to avail of these, please check out the details on the official website. If you are looking for any help, we are here for you.
Do you know how you can accessorize a contemporary rug with a Togo chair sofa?
Togo chairs are one of the most comfortable seating furniture that the Ligne Roset ever creates. This piece of furniture has managed to achieve a cult status since its time of invention. There are various ways you can dress a colorful rug with a Togo Chair in Perth.
The luxurious rugs are designed bearing a similar contemporary design. These are classic, contemporary, and iconic in look. The rugs are designed so that they have a transformational effect on the face of your Togo chair.
If you start using a rug on the sofa, you will slowly understand that it helps add a personal touch to your place and help you reflect your style through your choice of material.
The combinations of the available rugs are a perfect choice to pair up with the chair or sofa. The pile of large rugs that are there with us will ease the humdrum of the background noise by absorbing the sound. To pair up a beautiful rag with Togo Chair in Perth, get to the official website of Ligne Roset. Check out the details and book yours now.
Advantages of using a Togo chair
1. An ergonomic design- Using a Togo chair in the office environment is perfect in every sense, be it physical, psychological. These are devoid of any hard corners. These have an extremely relaxing design which makes them highly comfortable. These are also a perfect choice when you are thinking about placing furniture in your living room.
2. An all-purpose design- These sofas have gained much popularity because they have a variety of purposes to serve. Right from spending some time all by yourself to hanging out with your group of friends Togo Chair in Perth is a perfect option. You can use these for purposes of more than one.
3. A true classic- There are many factors that make a piece of furniture a classic. Firstly it is the design- it has to be something that lingers on the mind long after you have laid your eyes on it! Secondly, it needs to be high in aesthetics. The third thing that you need to consider is the relevance of the piece of furniture. It has to be in tune with the upcoming times as well. We are glad to inform you that European sofas in Perth are readily available with us at Ligne Roset. Please place your order for Togo Chair in Perth with us at Ligne Roset.